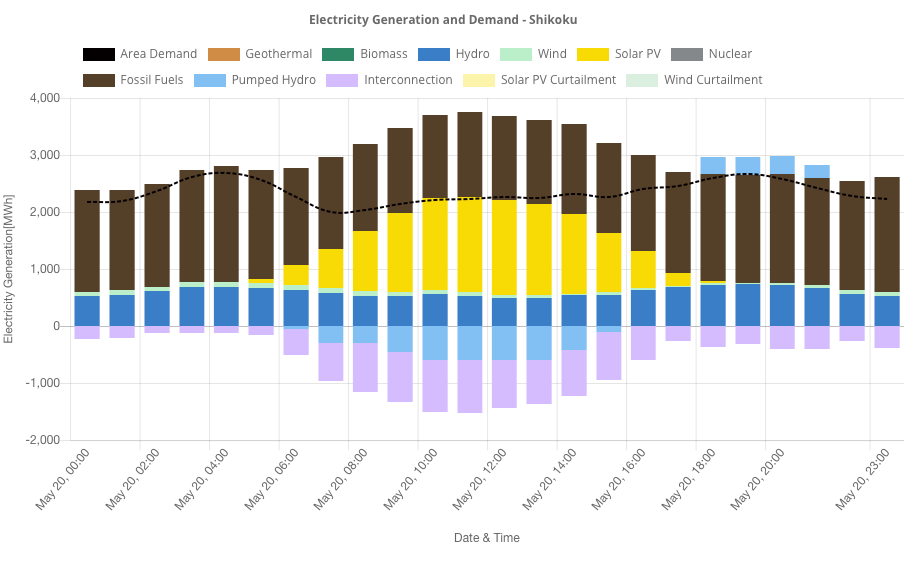 自然エネルギー供給割合が電力需要に対して100%以上
Renewable energy has exceeded 100% of electricity consumption in Shikoku Area,
ISEP has analyzed the regional renewable energy usage based on the data of electricity supply and consumption for each TSO area, which is reported by 10 TSO/DSOs(Transmission and Distribution System Operators) in Japan.
Here are two main points.
Renewable energy supply ratio can reach more than 100% of the consumption in Shikoku area(from 10 a.m. to 12 p.m. on May 20th, 2018). And the daily supply of renewable energy also reached around 52% of the consumption, 24% out of Solar PV.
As for Kyushu area, the solar PV electricity reached 81% of the consumption at the noon on May 3rd, 2018, and the renewable energy ratio reached 96% of the consumption.
For more detail, please seethe press release on October 23rd.
In FY 2017, highest share of renewable electricity in hourly data was also seen in Shikoku, 87.8% at the noon on May 25th, 2018. In addition, highest share in hourly data in Hokuriku (81.7% at 2 pm on May 14th, 2017) and Kyushu (86.9% at 11 am on May 14th, 2017) exceed 80%. As we considered when and where renewable electricity exceeds 100% of consumption, we received the good new earlier than we expected.
ISEP Energy Chart continue to provide records and information .